Slice of Life Story Challenge Day 28 -- I'm Joining Leigh Anne's Party!

******************
With today's Slice of Life, I am hopping over to Leigh Anne Eck's blog to join her slicing party! (If you missed her post about the party, you can see it here .)
This is what I am bringing:
Favorite book --
My favorite books are children's picture books. Caps For Sale by Esphyr Slobodkina and Two Bad Ants by Chris Van Allsburg have been at the top of my favorites list for years, so I'll bring those.
I'll bring my sister Cathy. She lives in Minnesota and I live in Ohio, so we don't get nearly enough "sister time" together. I think she'd enjoy the company of everyone at the party as much as I would.
Favorite food or beverage --
I'll bring chocolate chip cheesecake. I love chocolate, and I love cheesecake....Put them both together and you have perfection.
Favorite song --
There are many songs that I love, so it's hard to pick just one. But I guess I'll have to go with "What a Wonderful World" sung by Louis Armstrong. The words are simple, beautiful, and optimistic, and the melody is so pretty. (If you aren't familiar with it, you can click here to watch/listen on You Tube.)
Surprise --
I'll bring buckeyes for everyone. Not real buckeyes, which are seed nuts from a buckeye tree...
...but the candy kind of buckeyes, which are peanut butter balls dipped in chocolate.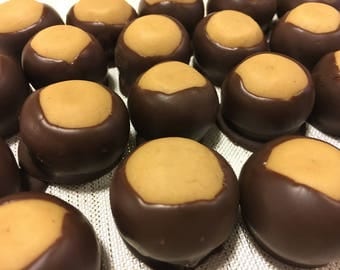 Candy buckeyes are similar in taste to Reese's Cups, but they are creamier and even more delicious. My daughter-in-law Kathleen and I, along with some of the grandkids, made a huuuuuuuge batch (22 dozen!) last December and gave them away as Christmas presents. (We didn't give them all away...we saved some for ourselves.) If you live in Ohio, chances are that you've eaten candy buckeyes before. If you've never had one, you're in for a treat!
I'm very happy to be joining Leigh Anne's party!